​By Sue Keegan, Education Administrator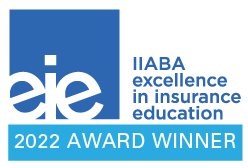 We are excited to announce that Big I New York has earned a Diamond Elite 2022 Excellence in Insurance Education award from IIABA!
The criteria for this award includes creation of new programs, ways to deliver education in our "new normal," innovation, and marketing.
We are honored to continue to deliver you award-winning education opportunities!
Love, your awesome education team,
Jim, Sue, Tim, Lisa and Kim